A downpour of rain doesn't have to be the end of your gorgeous outfit and up-do, just as a raincoat doesn't have to be the end of your fashion statement. Gone are the days of oversized yellow coats – there are heaps of gorgeous colours and styles available. Incorporate a cool rain slicker into your look for watertight style that'll keep you warm and dry.

The Colour Injection Look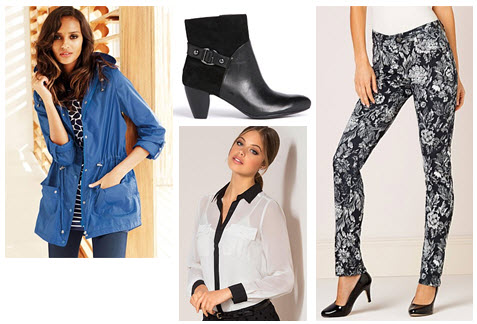 Make a bright parka your key piece in an otherwise neutral outfit. Experiment with different colours but keep it nice and bright! Clockwise from left: Blue mac, leather boot, floral printed jeans and white blouse.
The Bright is Right Look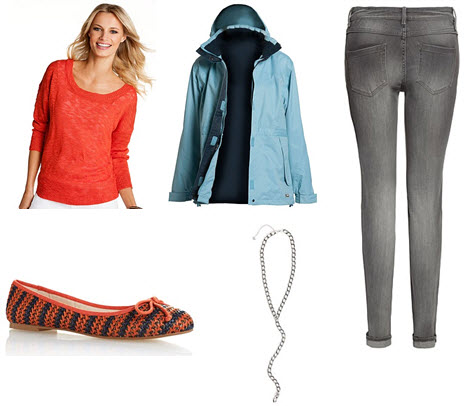 Pick complementary colours to keep the mood away from the cold weather. Brights are best with two of either your top/sweater, pants and raincoat being intense colours and the third being more subdued. Tie the colours together with matching shoes. Clockwise from left: Orange sweater, blue raincoat, grey skinny jeans, silver chain necklace and orange-blue weave ballet flats.
The Waterproof Special Occasion Look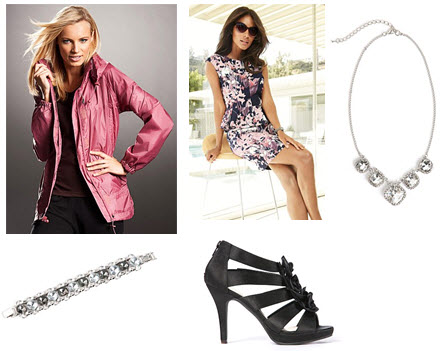 Throw a matching parka over a dressed up outfit to keep dry and stylish while still looking perfect when you take it off. Clockwise from left: Pink parka, floral dress, crystal necklace, heels and crystal bracelet.